Honyone taught you how to calculate the resistance value of switch neon
Honyone teach you how to calculate the resistance value of switch neon in some electrical devices, to use a light switch and led, with the neon as the indicator lamp, because the factory initial voltage of Neon is invariable. To use in a circuit higher than the voltage used, it is necessary to series current limiting resistance R, but many switch industry engineers for the series of the number of resistance calculation, has been unclear. Manulife Source Honyone has been in the field of switching research, accumulated in the switch using LED lights, neon, tungsten various combinations of experience.
The calculation method of series resistance value is summarized as follows, hope to be helpful to this interested person.
First of all must understand the series of partial pressure, shunt shunt principle. Therefore, for low voltage neon need to be used in high voltage environment, we must series one (or two) current limiting resistor for partial pressure. So that the actual voltage through the neon is very low, to achieve the neon normal operating voltage.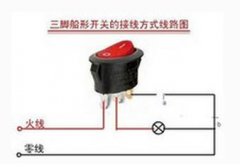 Calculation formula of current limiting resistor R:
R=U1-2U/I (KΩ)
  Type medium: U1--power supply voltage, Unit: V;
  U2--Neon initial voltage, unit: V;
  I-Neon working Current, Unit--ma
     Example: Using NBO-4C type neon, its u1=220v,u2=60v,i=0.5ma
In general, the RJ-0.25w-330kω resistor

Honyone Electrical aplliance CO.
LTD. Huizhou Hongli Source Electrical Appliance Co., Ltd. Technical Department provides