PRODUCT MODEL:K12A-RD-N-1
K12A-RD-N-1
PRODUCT SPECIFICATION:
FUNCTION: momentary
SWITCHING TRAVEL: 0,6 mm*
OPERATING FORCE: 1.5 N OD without snap-point as detector switch.
PROTECTION CLASS: IP 67/IP40 (dust tight, protected against)
SWITCHING VOLTAGE MIN./MAX.: 2 V DC / 30 V DC
SWITCHING CURRENT MIN./MAX.: 10 mA /100 mA
CONTACT RESISTANCE: Initial ≤ 50 mΩ
OPERATING TEMPERATURE: -40˚C to 85˚C.
SOLDERABILITY:
Wave soldering, compatible with lead free soldering profile
Hand soldering, 350˚C

Application:
The light touch switch has the advantages of small contact resistance load, accurate operating force error and diversified specifications, and has been widely used in electronic equipment and white household appliances.
DRAWING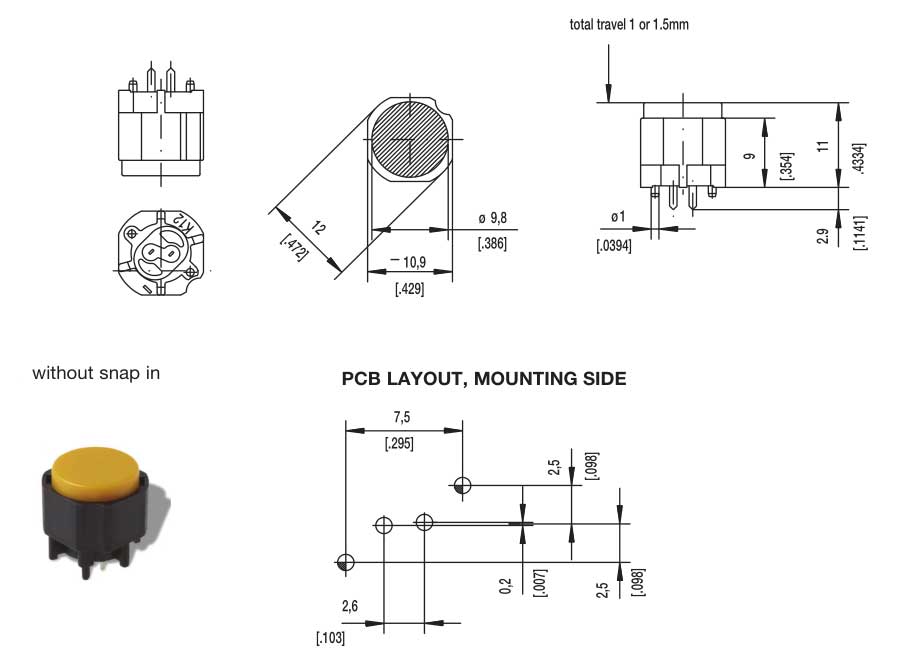 ORDER CODING DIAGRAM