HONYONE button switch PB22 series new release
Since the launch of PB22 series in 2017, HONYONE company has constantly improved the product structure and d the product appearance according to the needs of market customers. The pb22-h.pb22-r series just launched by the company greatly enriched the category of this switch series. In order to better explain the characteristics of PB22 series products, we specially take the similar products of youshang for some comparison.

HONYONE button switches PB22 series website link: http://www.honyone.com/cn/products/list_36_1.html
Product features:
1. Current reaches 3A 125VAC,2A 250VAC, 0.2a 24VDC(gold-plated). On-off self-locking and reset function.
2. The small size and total height of the product is only 21mm, saving expensive installation space.
3. The waterproof grade of the panel is up to IP67.
4. The service life is 100,000 times. Fully gold-plated conductive parts, high conduction sensitivity and low contact resistance.
5. Switch can customize various LED indicator lights, monochrome, two-color. Power indicator. Various display symbols can be customized.
6. The switch has clear hand feel, strong visual sense of lock and reset. Longer journey. Switch caps can be customized.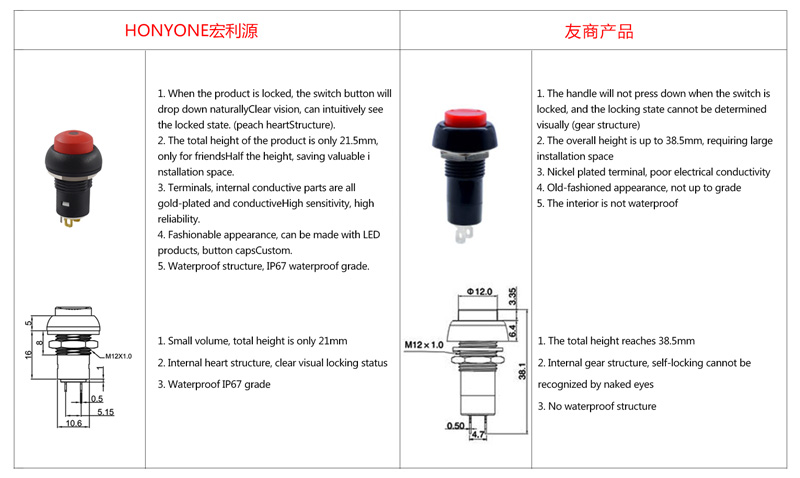 Latest applications:
1. Due to its high waterproof level and novel appearance design, it is widely used in intelligent electric toilet.
2. Uav control system. Suitable for outdoor applications.
3. Medical ultrasonic equipment, atomizer, oxygen generator.
4. Outdoor lighting products, sweeper robot.
5. Video processor, video cutter, large screen controller.
HONYONE button switches PB22 series website link:http://www.honyone.com/cn/products/list_36_1.html
HONYONE product technology department
2019-07-04