As our material life is increasing day by day, people begin to pay close attention to their health, outdoor recreational cycling rise increasingly, people ride during the holiday season is the most simple way, but if after a long ride, physical fatigue, then you can choose to install a power battery system on the bike, instantly became a electric bike, HONYONE latest developed a power electric cars special metal push button switch, has been the world bicycle industry leading enterprises, mahle company E - Spain BIKEMOTION company batch use.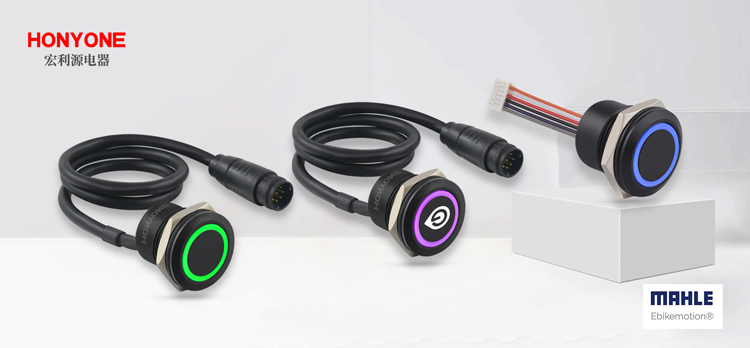 PTM series metal waterproof lithium battery special switch

http://www.honyone.com/cn/products/list_76_1.html PTM Product official website link
Switch features:
1. The waterproof grade of the product is up to IP68, which is fully waterproof and suitable for outdoor installation.
2. The switch itself can display six colors: red, green, blue, white, orange and purple. These six colors can be used on the battery pack to indicate the battery power. Industry peers switch display R.G.B at most three colors.
3. All metal case, IP68 waterproof plug, sealed at the end of the switch. Can really achieve IP67 waterproof.
The switching life can reach 1 million times.
4.ESD antistatic test can be up to 4kv-8kv, in line with iec61000-4-2 vehicle type discharge immunity test.
5. All environmentally friendly materials, in line with ROHS and REACH standards.
6.6 the core waterproof plug is easy to install and use. Metal button switch, riot, high durability level. Surface black oxidation process, insulation, oxidation resistance, corrosion resistance.
7. External connection wire can be used with 6 core or 9 core waterproof quick connection, or 6 core line.
Application:
1. Electric bicycle, power-assisted electric vehicle, lithium battery.
2. Power battery pack and energy storage equipment.
3. Electric vehicles, charging pile equipment.
4. Gas station equipment.
5. Test instrument.
HONYONE Research and Development Department
2019-12-12