HONYONE developed the latest four legs RGB led illuminated touch series switch in 2021, filling the HONYONE company\'s demand in the field of RGB LED touch switch. In order to meet the customer\'s installation requirements in a very small space, Honyone has developed two-color,and R.G.B colors touch switch. At present, TS3 series switches can be divided into waterproof IP65 type, side plug type, multi-color LED and RGB LED type.In the future, Honyone will develop more switches to meet customer needs.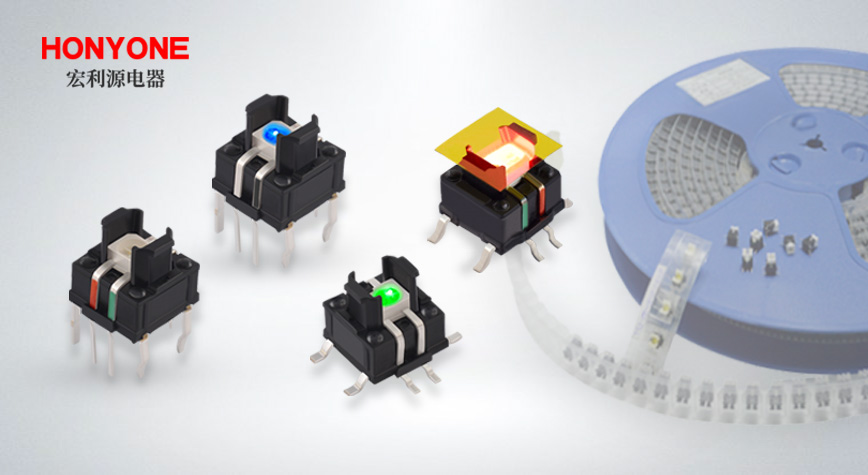 TS3 full color switch features:
1. Can achieve two colors (4 feet), two positive, two negative poles. Separately control the color of LED lights to avoid the need to change the polarity of positive and negative to control the two-color lights.
2. R.G.B tricolor (full color) can be realized. 4 LED light feet, C +, R.G.B - pole, guests can control the combination through the chip, can reach more than 7 kinds of color display.
3. The switch can be made into SMT pins, the switch material can be high temperature resistant, can meet the requirements of reflow soldering.
4. Woven belt packing, vacuum film suction, automatic plug-in.
5. The switch volume is small, saving the customer\'s precious space, and realizing the switch control in the limited space. Three-color R.G.B color, cost and space saving.
6. Switch can also do straight pins, can achieve the requirements of wave soldering, can be woven with packaging.
7. Can be adapted to all kinds of TS3 key caps, according to customer laser characters.

Application of TS3 full-color switch:

Laptops, consumer electronics

Video processor, network teaching equipment

Automotive on-board equipment

Medical treatment, beauty and electronic instruments
HONYONE Research and development department
2021-5-12