HONYONE ATTEND (2018) HONGKONG ELECTRONICS FAIR(AUTUMN EDITION)
Time:2018-07-30
HONYONE ATTEND (2018) HONGKONG ELECTRONICS FAIR(AUTUMN EDITION)
Honyone( Dongguan) Precision Electronics Co., Ltd., Huizhou HONYONE Source Electrical Appliance Co., Ltd. will participate in the 2018 Hong Kong Electronic exhibition, the division will be a number of new products to be released, welcome friends, industry peers to visit the exhibition guide, the site will have a catalogue of products and a variety of small gifts gift. Exhibition Date: 2018-10-13 to 16th. If you need to enter the pass, you can consult our exhibitors, will take you to visit.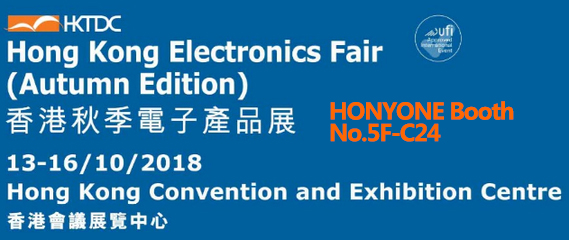 Please remember our booth number:
The International Electronic Components Exhibition hall, five floor, Wanchai Convention and Exhibition Centre, Hong Kong
BOOTH No.

5F-C24


2018-10-13 to 16th.